Radiometer
Our radiometer SM -OE20, Geiger counters, characterized by ease of use and a wide LCD display.


It is the first kind of radiometer whre you can see the radiation measurements and the annual value of the display.


Basically, beta and gamma rays are measured.
To ensure mechanical robustness, we use an extrusion housing AL Mg SI05 powder coated. With this arrangement is already a good EMC protection guarantees.


Development basis for easy operation was the radiometer SV 500 of the german army, which can be used from everybody without any special knowledge. Thinks to improve seemed the sensitivity of the probe and as a highlight we have a processor-controlled evaluation on a LCD display.
The convert the units as µS to mRem and Bq are things of the past. All important data can be displayed simultaneously on the display and the measuring range is automatically selected and represented the dose according µS, mS, S.
µS/hto mS/h to pulses/min. and Bq, may be simultaneously read on the display.
For the users which prefer the unit Rem / h, they has the opportunity to choose with one touch this representation. For information: Rem was changed in 1978 with the unit Sv / h.
As a reminder the yearly guideline was shown. An adjustable warning threshold and the languages German or English can be selected.


To measure the exposure to fungi or vegetables, venison or materials of any kind, a long-term measurements can be made.
The default value of 30 minutes can be changed in the menu.
Of course, the measuring probe is water proofed for measurement in liquids.
A switchable display illumination allows to work in the dark.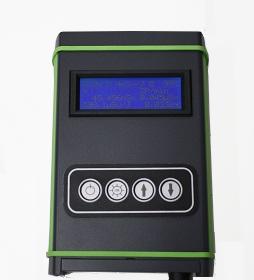 Technical Data:
title: SM - OE20
dimensions: L 18,3cm B 12cm H 3,4cm
weight: 658gr. mit Batterie
housing: Extrusion housing AL Mg SI05 powder coated die cast caps powdercoated
power supply: 9V standart battery or Lithium
current consumption: 20mA
Display format: Operating language German or English, battery voltage in%, counter tube in V, long-term measurement in min.- hrs., Guide value in mSv / J or Rem / J, p / min and p / h, measured value in nSv / h, µSv / h, mSv / h, mRem / h, Rem / h, KREM / h, µSv / J, mSv / J, Sv / J, Bq, warning threshold 20µS as standard, power-saving mode ON / OFF, time measurement is active, auto switch ON / OFF, data delete, factory Reset.
Display-colour: yellow or blue (Please specify when ordering).
Keyboard Controls: Unit ON-OFF, German-English, signal generator ON-OFF, light ON-OFF, switching the measurement unit, delete data, reset settings, power-saving mode ON / OFF start time-measurement, change measured time, change warning threshold
probe: Universal probe for beta - and gamma radiation
temperature range: -40°C bis 50°C